Author: Adam Vine
Narrator: Kevin Meyer
Series: Corruption Cycle, Book One
Length: 13 hours 57 minutes
Publisher: Lilydog Books
Released: July 18, 2017
Genre: Dark Fantasy


A dishonored swordsman running from his past.

A city shrouded in dark magic.

An antihero born.

Daniel Harper was champion, until a single mistake destroyed his fencing career forever. With nothing left to lose, he flees to Eastern Europe, where he can start over… where he can be someone else.

In the exotic, lantern-lit crevices of a nameless city, Daniel meets two people who open very different kinds of doors than the ones he is searching for: the troubled flower girl Kashka, who holds the key to a nightmarish otherworld; and the enigmatic street magician and self-professed love tourist Ink, who has the power to bend others to his will.

As Daniel plummets into a downward spiral of hedonism and dereliction, he is tormented by macabre visions of a frozen world in endless darkness where an evil tyrant has stolen the sun, where humanity's remnants fight to scrape out a cruel existence underground, and wandering spirits inhabit the bodies of the recently deceased. Daniel is doomed to return to this Night Country every time he falls into a deep sleep. But the longer he spends there, the more Daniel realizes his curse is anything but an accident….




Adam Vine was born in Northern California. By day, he is a game writer and designer. He has lived in four countries and visited thirty. He is the author of two novels and many short stories. When he is not writing, he is traveling, reading something icky, or teaching himself to play his mandolin. He currently lives in Germany.

Kevin Meyer is a devoted Midwesterner, raised in rural Wisconsin and transplanted to Tulsa, Oklahoma over three decades ago. A career-long voice-over and music radio guy, his iPhone playlist ranges from Alice Cooper and Waylon Jennings to Twenty One Pilots and The Zac Brown Band. Favorite reads are dominated by political biographies (Lincoln, Truman, Kennedy)… and Stephen King.


I received this audiobook as part of my participation in a blog tour with Audiobookworm Promotions. The tour is being sponsored by Adam Vine. The gifting of this audiobook did not affect my opinion of it.
RATING:
4/5 stars
THOUGHTS:
Kevin Meyer, as narrator, did a terrific job as a voice actor. There was enough distinction between actors to make it clear which character was speaking (and there were a lot of characters) and his tone varied appropriately so that I listened intently for every plot point. There were times throughout the audiobook that I felt as though I was listening to a radio drama rather than being read a story. This kept the story engaging and entertaining, although the plot on its own was already pulling, the voice acting added an extra dimension to it and made it easier to digest as I said before, there are a lot of characters and complexities in the plot. I felt as though if I read a physical copy of this book instead, I'd have a less clear perception of the whole story.
The production overall was of good quality; the sound was clear, which of course, is the most important quality of an audiobook for me. The audio progressed nicely, so that pauses were of the appropriate length.
Like I said, I enjoyed listening to this book and I think I got more out of the story by listening to it rather than reading it. I would definitely recommend it for those audiobook aficionados out there.
Not to mention, the plot of this book and the overall skill displayed by the author Adam Vine were phenomenal. The world building that Vine engaged in and the imagery that so often accompanies fantasy books were exceptionally well thought out. One of the best things I liked about this book is that it was ambiguous- the villains were given humanity, the so-called good rebels succumbed to the uglier parts of humanity, and our protagonist struggles between defining himself as a good person or a bad person. I also appreciated reading from the perspective of an insecure, average, middle-aged man who deals with issues of masculinity, love, and career. I think that is a perspective that is often hard to come by in literature and I really appreciated seeing that it got its voice in Corruption.
Guys, if you like fantasy, you have to step inside the world that Vine has created. It is so complex, and riddled with things like technology, religion, politics, astrophysics, sexually transmitted diseases/memories, genocide, cultural clashes, cultish followings, and the like. There was so much thought put into the creation of this alternate reality and it was a joy being plunged into the complexities, beauties, and issues of a world that exists in another place and time. If you enjoy fantasy, this is a MUST READ for you.
One of the biggest compliments that I can offer a series is that I desire to and cannot wait for the next installment. I can say this for the next installment in the Corruption cycle, and that's possibly the best recommendation I can give you to read this book!

Sep. 13th:
Notes from 'Round the Bend
Sep. 14th:
Dab of Darkness Audiobook Reviews
Sep. 15th:
Sep. 16th:
Sep. 17th:
Sep. 18th:
Sep. 19th: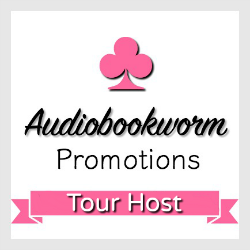 ➜Sign up as a host here